For candidates who are unable to make use of the careers website you can submit an application into the system on their behalf.
Generally you would encourage the candidate to submit their application themselves as this will save you time. It also ensure that the candidate has a login for the system and can take advantage of the other features on offer such as submitting a profile or creating a job alert.
To create a candidate manually: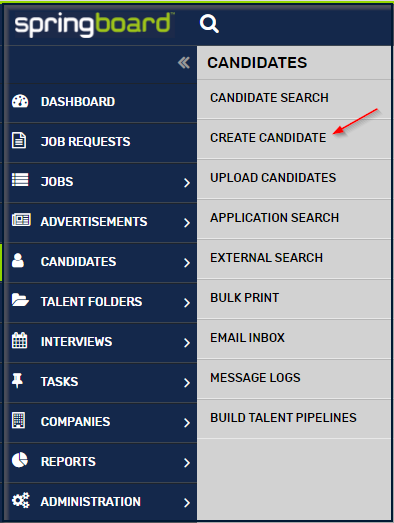 Click on Administration area to access the left side menu
Access Create Candidate from the Candidates menu.
Drag and Drop a file for resume or related documents
Fill in all applicable fields in the 4 sections:
–Personal Details
–Resume (with pre-fill option)
–Actions (link to job)
–Candidate Profile
Click Create Candidate when finished.
TIP: After browsing and attaching a resume, clicking the 'Pre-fill from resume' button will parse the resume and automatically fill in the relevant details in the Candidate Profile. This will save you time filling out each field in the Candidate Profile from scratch.