Any time after you have created your advertisements you can return to make changes to your content, categorisation, post to additional job boards, or archive if no longer required.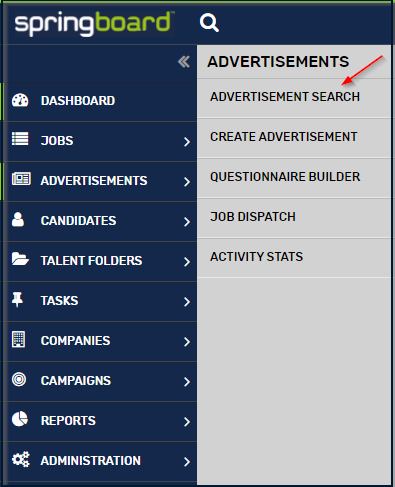 Click on Advertisements in the left hand navigation menu to access the Search Advertisements screen.
Enter your search criteria. You can return all current advertisements by leaving the search criteria blank.
Then click Search.
THE SEARCH RESULTS GRID:

MANAGING ADVERTISEMENTS:
Click on the checkbox under the Edit (E), Archive(A), Delete(D) as highlighted in the screenshot above, or Resubmit job box for each ad you want to action.
Click Submit to action the request. Editing will take you into an edit screen to make your changes.
If you selected multiple ads, these will be presented to you one at a time. Any edits, as well as other selected changes will occur immediate on your careers portal, or with the next feed for 3rdparty job boards.
Click on Req Ref to access the job details
Click on Ad ref to access the job advertisement and edit the individual job ad
The Job indicators as in the first highlighted box in the screenshot show where the job ad is posted
The Job created date and Expiry date are visible as well