LinkedIn Limited Listings
Springboard provides you the ability to push all your jobs onto the LinkedIn platform for free utilising the Limited Listings integration option.
This communication provides you a brief overview of the LinkedIn job posting options and how you can take advantage of it via your Springboard system.
What is LinkedIn Limited Listings?
Limited Listings are free job posts gathered by LinkedIn from job boards, e-recruitment platforms, and aggregators across the web, to create a comprehensive job seeking experience for LinkedIn members. They are visible to candidates actively conducting a job search or viewing a company's LinkedIn Page. Unlike paid ads, these free ads will not appear in any recommendations in LinkedIn.
LinkedIn Limited Listings only appear through LinkedIn's search after relevant LinkedIn Job Slots and Posts. Limited Listings do not appear in the recommendations throughout the site. This means that they are only visible to the subset of members who are actively looking for jobs.
LinkedIn Limited Listings cannot be sponsored across the site.
More information on Limited Listings, and how they differ from paid Job Slots, is available here:
https://www.linkedin.com/help/linkedin/answer/110940/limited-listings-on-linkedin-overview?lang=en
https://www.linkedin.com/help/linkedin/answer/110943/limited-listings-on-linkedin-faqs?lang=en
How will my jobs on Springboard be distributed to Limited Listings?
Once your solution is enabled for Limited Listing posting, all your job advertisements will be automatically pushed to LinkedIn Limited listings within 12-24 hours.
Once enabled, a new sourcing channel labelled LinkedIn Limited Listing will be available on your Job Advertisement page, and all new jobs will be default selected.
Should you wish to remove (or not post) a job to LinkedIn, you can deselect it as a sourcing channel.
How do I enable LinkedIn Limited Listing for my Springboard instance?
To enable Limited Listings, you need to upload LinkedIn's CompanyID for your company to Springboard.
LinkedIn's CompanyID is the unique identifier that LinkedIn uses for your company's pages.
There are several easy ways that you can retrieve your LinkedIn CompanyID. Follow the steps in this link to retrieve your CompanyID.
https://www.linkedin.com/help/linkedin/answer/a415420
Once you have retrieved your LinkedIn Company ID, you need to provide it to Springboard. You can do this yourself if you are a Springboard Administrator within your account.
Follow these steps to provide your LinkedIn CompanyID.
Login to Springboard and go to Administration -> Admin Console. You should see an option to Manage Reference Data. If you do not see this link, find a team member who has access, or contact Application Support to get access to this admin feature.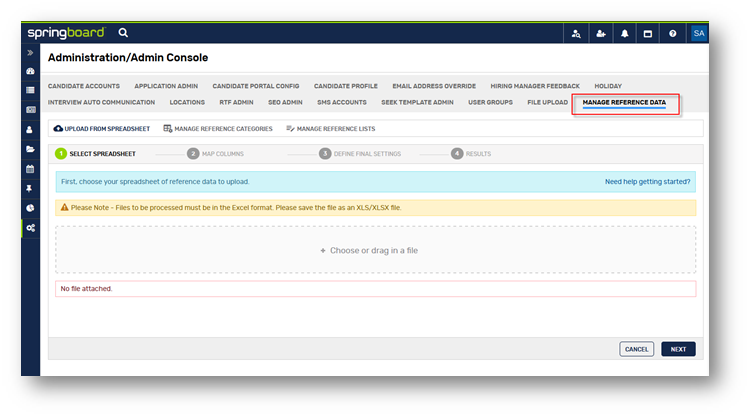 Manage Reference Data enables you to modify all the configuration data within your solution, such as options that populate each of the dropdown and picklists.
To add a LinkedIn CompanyID, click Manage Reference Lists. In the Category Name field, start typing 'LinkedIn' and you should see a category name of "LINKEDIN_COMPANY_CODE". Select this and click 'Search'.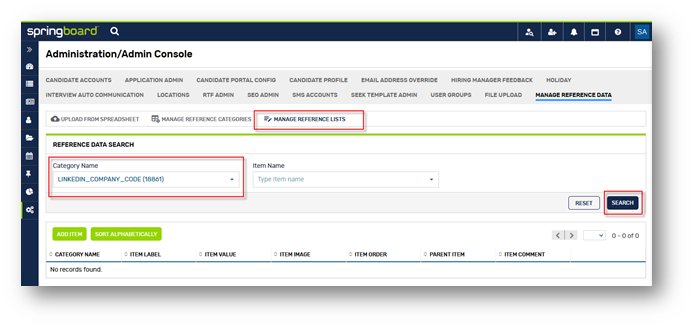 More than likely you will not find any results, and that's ok! You haven't added any value yet.
Click "Add Item" and then the pencil icon to create a new item.

Enter your LinkedIn CompanyID from the section above into BOTH the Item Label and Item Value fields, and then click the green tick to save your change.

That's it! You're done.
Go to the Create Advertisement or Edit Advertisement page, and you should see the LinkedIn Limited Listing sourcing channel now available.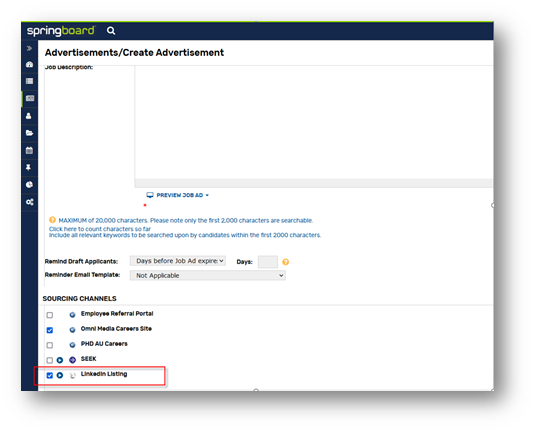 I can't upload my CompanyID, what do I do?
If you have retrieved your CompanyID from LinkedIn but can't upload it to Springboard, please contact the Application Support team and provide your CompanyID. The team can upload it on your behalf. Please be very clear on which agency or organization you are from.
I have multiple LinkedIn Companies within my Springboard instance. What do I do?
For now, each Springboard 'backend' can only support one LinkedIn CompanyID. You will have to select the most appropriate LinkedIn company for your jobs to be posted to. If this is a problem for your client, advise the Springboard team and we will investigate options as part of a future release. This may incur a small implementation fee to support a choice of CompanyIDs per job advertisement.
Further classifying your job on LinkedIn
You can optionally complete additional LinkedIn specific classifications as part of each job ad posting to better classify your job on LinkedIn.
Few important details to note
Limited listings don't guarantee a job being posted on LinkedIn. This is due to certain reasons:
De-duplication: Jobs that you have already posted directly on LinkedIn
Employer opt-out: If you have opted out of the LL program
Invalid fields: Missing mandatory fields like Company ID, Industry or Location