New ways to prove advertisement posting (Annual Market Salary Rate Testing)
Clients often have a requirement to prove that positions have been advertised on their career site or job board for a period of time in order to satisfy local posting requirements or immigration rules.
With this release, Springboard introduces two new features that can be used to assist with proving that a particular job advertisement was posted to a careers site or sourcing channel for the required period of time, and to screenshot the job advertisement that was posted.
Taking a screenshot of a job advertisement, even after it has been archived
There are times when a screen print or screen shot of the job ad content needs to be taken after the job advertising period has already closed (for example, as part of making an offer).
It is now possible to use the 'Preview Job Ad' feature on the job advertisement page even for archived job ads. Previously, this feature was only available for live job advertisements.
To use the feature, simple re-check the sourcing channel (e.g. careers site) for the site where you wish to re-generate a preview of how the job ad was posted and click 'Preview Job Ad' for that sourcing channel.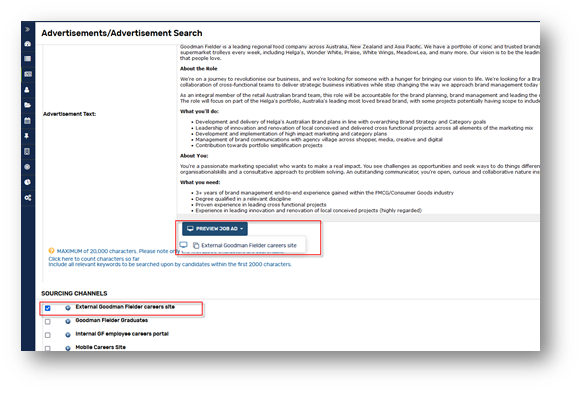 The job advertisement is displayed, giving the user the change to take a screen print or screenshot that can be included in any compliance documentation required for recruiting the role.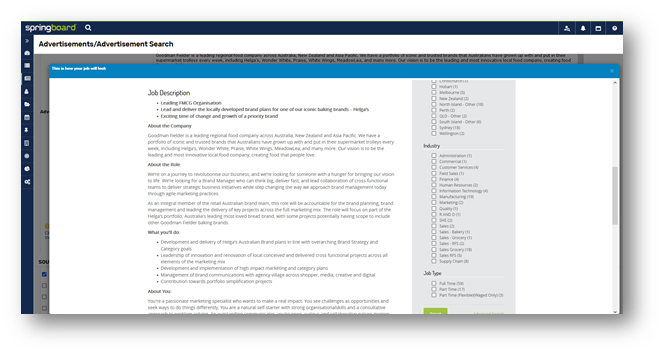 Proof of job advertisement posting times to each sourcing channel
The Sourcing Channels section of the Job Ad Details screen now includes a report of the dates and durations each job ad was posted to each sourcing channel. You can screenshot this to provide to compliance agencies as proof of advertising that a given job advertisement has been posted to a job board or careers site for an adequate length of time.