All communication templates and options to navigate to support , details, Organisation users , support for the Interview Scheduler and many more can be accessed are located in the Administration module
If you have questions about the content and do not have access to this module, reach out to your direct manager or the Springboard Support Team for assistance.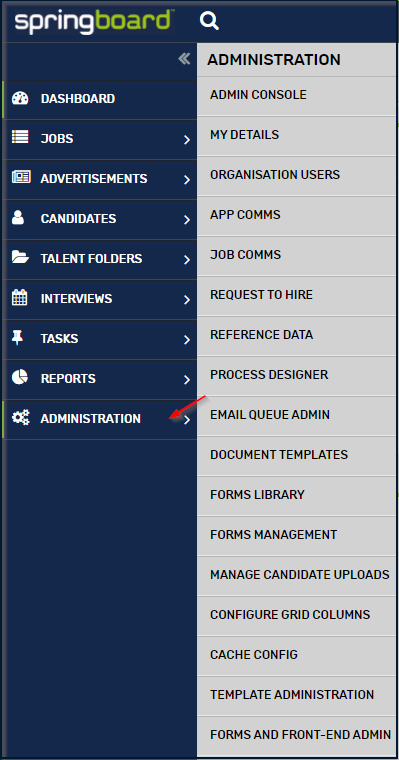 Admin Console:

1. Under Admin Console
Candidate Accounts- You can search for candidate records based on the name or email or User name
Broadcasts: You can generate a notification to Springboard users by selecting a notification type.
Application Admin
Candidate Portal Config: This can be accessible under Admin Console. You can configure and choose the visibility on the agents
Candidate Profile: You can access the following under this tab Custom fields library tab, Careers Site Profile Setup and Application Form Mapping tab are accessible in this area
Hiring Manger Feedback: You can check the feedback criteria under this
Holiday : You can add in a new holiday
Interview auto communication-Type of notifications for interview can be accessed in this area
Locations- The Location details, Addresses information are available in this area
RTF admin- RTF template download and RTF template Admin details are accessible here
SMS accounts- You can add in a New SMS account or check the details in this area
Talent Folder processes- Process Configuration and Process step library options are available in this area
Manage Reference Data- You can add in ref data by adding a file in this area
2. My Details :
Organisation User details , Login details can be updated or reset in this area
3. Organisation User:
You can Create user or search for a user, Create organisation, Organisation services or search or check the organisation details under this Organisation User
4. App Comms :
Bulk print, communication, message logs, search area for questionnaire search are available under this section
5. Job Comms:
Access to create requisition or search for a requisition is available under this area
6. Request to Hire:
You can search for a RTH based on status here
7. Reference Data:
Reference data management ,or search for one based on categories can be done under this area
8. Process Designer:
You can search for workflow templates, search workflows, search activities
9. Documents Template:
Forms or PDF templates are loaded in this area which can be used to generate for a candidate
10. Forms Library:
You can create a new form or access edit control library in this area
11. Forms Management:
You can search, edit or delete a forms in this area.